Key Points:
NAD+ declines with age and contributes to chronic age-related diseases like heart disease, neurodegenerative disease, and diabetes.
NAD+ can be replenished with precursor supplements like NMN and NR, or diet and exercise.
Individuals below the age of 32, those who are not overweight or obese, and those who do not suffer from addiction, anxiety, or depression may not benefit from supplementing with NAD+ precursors. 
In recent years, NAD+ has seen a rise in popularity with scientists like Dr. David Sinclair touting its anti-aging benefits. Contributing to this popularity is a rise in scientific research revealing the underlying causes of aging, which includes a decline in NAD+.
What is NAD+?
Nicotinamide adenine dinucleotide (NAD+) is a naturally occurring molecule necessary for life. Each of our cells depend on NAD+ to function and survive. It participates in key cellular processes like energy production, DNA repair, and enzyme reactions (as a coenzyme).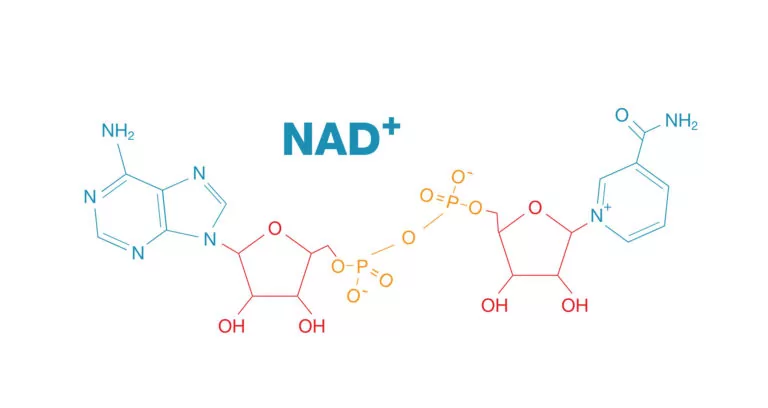 NADH is the reduced form of NAD+, meaning it has an extra negatively charged electron (and a hydrogen atom, denoted by "H"). In contrast, NAD+ is the oxidized form of NADH, meaning it has lost an electron (and hydrogen). Thus, relative to NADH, NAD+ has a positive charge, represented by a plus sign.
Carrying electrons is one of the major roles of NAD+. When we eat food, proteins, fats, and sugars are broken down in our cells, and electrons are released. NAD+ captures these electrons and carries them to a structure within our mitochondria that leads to cellular energy (ATP) production.
NAD+ and Aging
NAD+ declines with aging in humans, including in the skin, brain, and liver, as well as in immune cells. Age-related NAD+ decline may be due to decreased NAD+ synthesis and increased NAD+ breakdown from chronic inflammation, or other age-related conditions.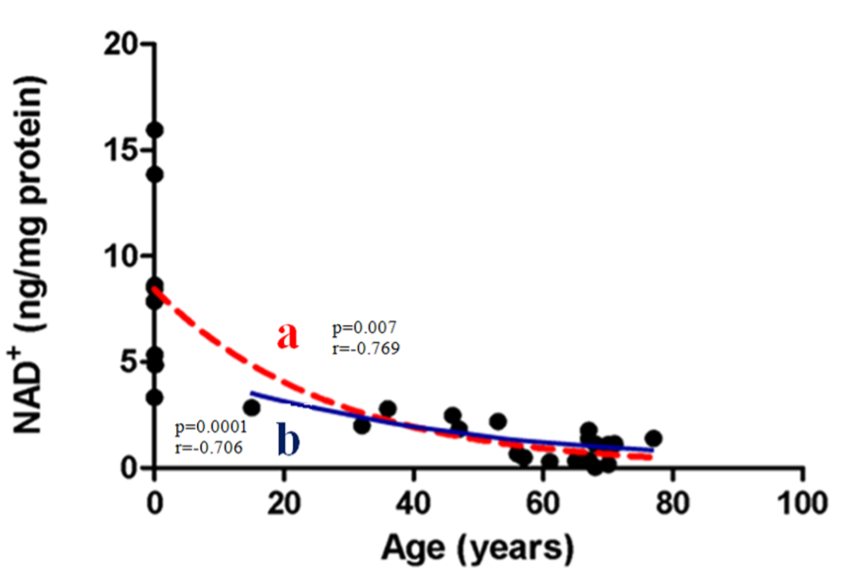 There are several chronic diseases for which age is the primary risk factor, including heart disease, neurodegenerative disease, cancer, and diabetes. Many of these diseases are associated with high mortality rates and may shorten the lifespan of individuals who otherwise would have lived longer. These chronic diseases are referred to as age-related diseases.
Scientists have begun to identify the processes that underlie age-related diseases, including DNA damage, mitochondrial dysfunction, and chronic inflammation. Remarkably, deficits in NAD+ metabolism are involved in nearly all of these processes. Therefore, replenishing NAD+ could counter age-related diseases and potentially extend human lifespan.
How to Increase NAD+ Levels
Because of its promising benefits, boosting NAD+ has become highly sought after, and some would say overhyped within certain sectors, such as the health, tech, and longevity communities. For this reason, many NAD+ boosting products have exploded onto the market, many of which are backed by little to no quality scientific evidence.
Essentially only two categories of NAD+ boosting methods are supported by surmounting peer-reviewed literature: NAD+ precursors and healthy lifestyle choices. NAD+ intravenous (IV) therapy deserves an honorable mention based mostly on anecdotal evidence. However, this method is rather invasive, requiring being stuck with a needle.
NAD+ Precursors
NAD+ precursors occur naturally within our cells but can be taken in supplement form to boost NAD+ levels. When supplemented, these molecules are metabolized into NAD+ upon entering our cells, effectively increasing intracellular NAD+ levels.
Most NAD+ precursors are different forms of vitamin B3, and include niacin (a.k.a. nicotinic acid), nicotinamide, nicotinamide riboside (NR), and nicotinamide mononucleotide (NMN). Tryptophan, which is an amino acid, is also a precursor but does not increase NAD+ levels to the same extent as other precursors.
Of the precursors, only NR and NMN have more than a handful of studies testing their age-related effects on humans. Namely, in older, but not younger adults NR has been shown to improve exercise performance. Additionally, in obese adults, NR has been shown to improve body composition. Besides these studies and other studies that combined NR with other compounds, NR has shown little positive results in humans.
On the other hand, NMN studies have had more positive results. NMN has been shown to improve physical performance and sleep quality, strength and walking speed, insulin sensitivity, and skin aging, as well as cholesterol levels, blood pressure, and weight. This is in addition to the many animal studies showing that NMN reverses aspects of age-related diseases, including cardiovascular disease and neurodegenerative disease.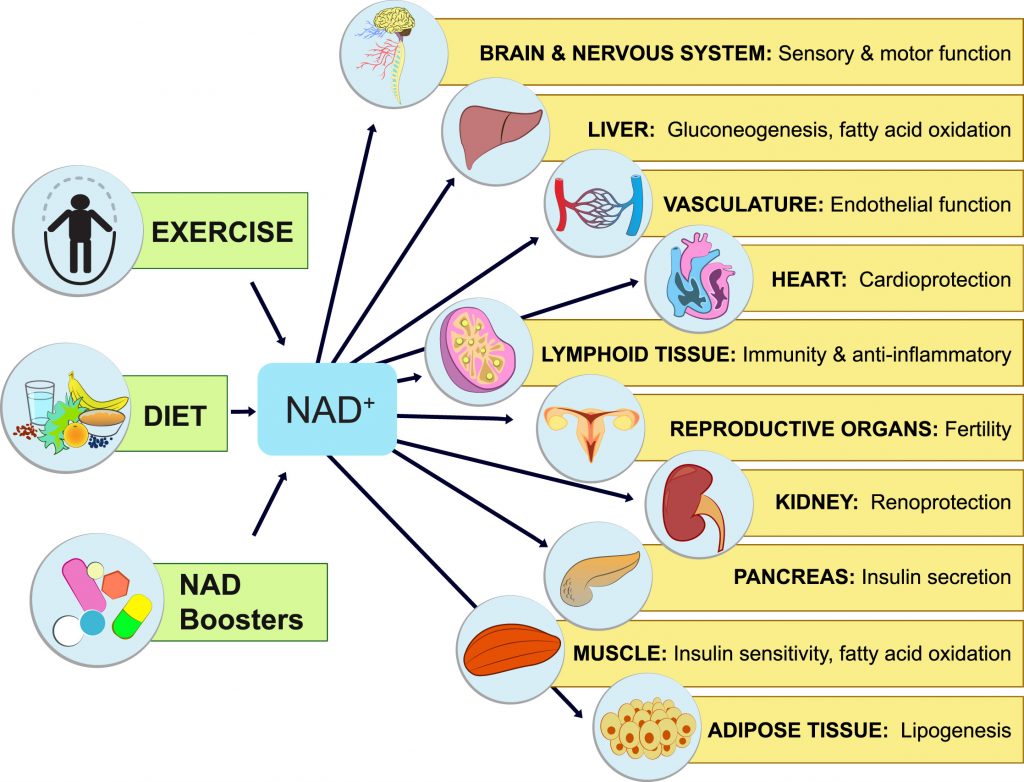 Increasing NAD+ Naturally
Diet and exercise have always been nature's medicine. Caloric restriction (CR) — reducing caloric intake by 25-60% — has been shown to increase the lifespan of animals, including monkeys. CR, along with eating habits like avoiding high-fat and high-sugar foods stimulate increases in NAD+ levels. Furthermore, physical activity, including aerobic exercise and resistance training also boosts NAD+ levels.
Side Effects of Boosting NAD+ with Supplements
Human clinical studies of multiple NAD+ precursors, including niacin, nicotinamide, NR, and NMN have demonstrated that boosting NAD+ with these supplements is safe within recommended dosages. However, cellular NAD+ homeostasis is complex, and altering NAD+ levels can have anti-cancer or pro-cancer effects. For example, niacin, NR, and nicotinamide have been shown to have anti-cancer effects. And hypothetically, boosting NAD+ could enhance the survival and function of existing cancer cells, as it does with most cells.
Niacin, specifically, is known to cause flushing of the skin. However, there are now non-flush niacin products available. Niacin and the other NAD+ precursors share similar side effects, including nausea, vomiting, and diarrhea in some individuals.
Who Should Take An NAD+ Supplement?
Whether or not to take an NAD+ supplement largely depends on age. With age, our NAD+ levels decline, leading to a myriad of cellular defects that lead to chronic disease. However, a poor diet and lack of exercise can also lead to cellular metabolic defects, including diminished NAD+ levels.
While there are no human studies that have directly tested at what age to begin taking NAD+ supplements (precursors), current studies would suggest beginning NAD+ supplementation around midlife, as early as the age of 32. Additionally, individuals who are overweight or obese could also benefit from NAD+ supplements.
Additionally, while mostly anecdotal evidence exists, there are studies showing that boosting NAD+ can alleviate anxiety, depression, and cravings from addiction. Therefore, individuals with adverse mood-dependent behavioral issues may also benefit from NAD+ supplementation, regardless of age or weight. However, more studies are needed to confirm this.
In contrast, those who do not have low NAD+ levels, such as healthy-weight individuals under the age of 32 are not likely to benefit from NAD+ supplements.