Key Points:
Senescent cells are covered in molecules called NKG2Ds.
Aged mice and monkeys treated with engineered immune cells that target and eliminate cells covered in NKG2Ds have fewer senescent cells.
Treating aged mice with these engineered immune cells results in improvements in the characteristics of aging, including physical performance.
Researchers at Sichuan University and the Chinese Academy of Sciences came up with a way to find and kill cells that are known to cause aging and diseases linked to aging. The scientists describe how they made an immune cell that targets a specific protein called Natural Killer Group 2 Member D (NKG2D) on the surface of cells that have become senescent—a state where cells have stopped growing and dividing that is linked to aging and disease. These engineered immune cells that target NKG2D killed senescent cells in old mice and non-human primates. Also, older mice administered with the engineered immune cells did better in physical tests after treatment. These results support the idea that these engineered immune cells that target NKG2D could be used to treat medical conditions linked to aging.
Hunting Down Senescent Aging Cells
Senescence is a natural process that happens in cells. It helps wounds heal, stops tumors from growing, and might even help embryos grow. But the abnormal buildup of senescent cells in tissues exacerbates the progression of age-related diseases. To fix this problem, scientists have employed compounds called senolytics that go after senescent cells. It has been shown that these anti-aging drugs can make mice live longer and rejuvenate their tissues. That being said, due to the different kinds of senescent cells,more senolytics still need to be made.
NKG2D molecules are made in large numbers on the outside of cancer cells but not on the outside of normal cells. Cancer cells that have NKG2D molecules on them are hidden from the body's immune systems, which look for and kill cells. In clinical trials, engineered immune cells that target NKG2D molecules, which go by the name NKG2D-CAR T, have been used on people with different types of cancer, and they have been safe and well tolerated.
Engineered Immune Cells Eliminate Senescent Cells in Aging Animals
Co-lead authors Dong Yang and Bin Sun showed in a study published in Science Translational Medicine that NKG2D molecules are also found on senescent cells. They used NKG2D-CAR T cells to find and kill senescent human cells on lab dishes that made NKG2D molecules.
Next, Yang and Sun tested what they had learned on animals. They tested how well NKG2D-CAR T cells could find and kill senescent cells in two kinds of old mice: mice that got old on their own and mice that got old faster because they were given a drug that makes cells age faster. The NKG2D-CAR T cells were able to find and kill senescent cells in the heart, lungs, liver, kidneys, muscle, and fat of both types of mice.
Then, the researchers looked to see if NKG2D-CAR T cells helped older mice show less signs of aging. For example, they looked at bone density and fat levels, both of which have been shown to fall with age. Bone density and fat levels were much higher in old mice treated with NKG2D-CAR T cells than in old mice that were not treated. However, these levels never reached those of young mice. Analysis of the mice's blood showed that after they were given NKG2D-CAR T cells, the levels of molecules that show how healthy different tissues are, like the liver, kidneys, and heart, increased. These results show that NKG2D-CAR T cells helped with several characteristics tied to aging.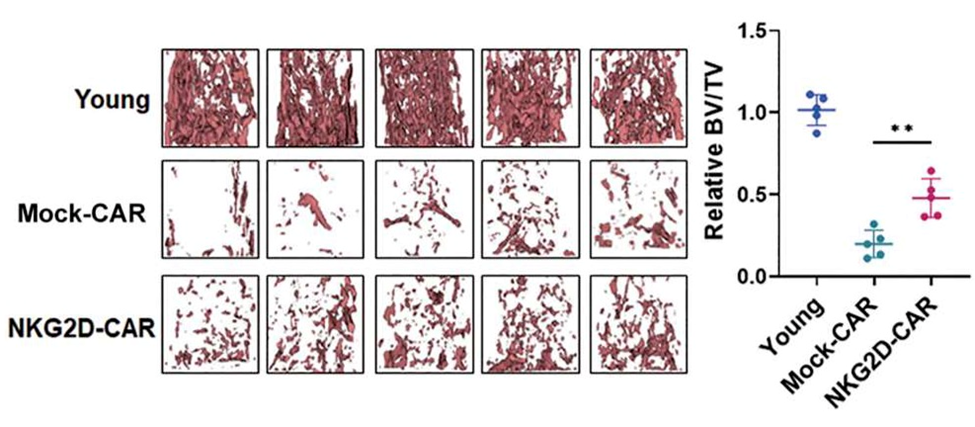 When both old mice were given NKG2D-CAR T cells, there were signs that their physical performance was better. For example, when mice were given NKG2D-CAR T cells, their maximum treadmill endurance, grip strength, and walking speed all got much better. Based on these results, it looks like NKG2D-CAR T cells could be used to treat diseases that come with getting older.

Yang and Sun finally moved these tests to non-human primates, which are the closest thing we have to a human model of aging. When they took T cells from old monkeys and changed them so that they could target and kill NKG2D-covered cells, they found that this method could be used to get rid of senescent cells in old non-human primates without causing any harm. These results pave the way for experiments with NKG2D-CAR T cells to be used to treat human diseases linked to aging-induced senescence.
Using Engineered Immune Cells to Combat Human Aging
Even though clinical trials for cancer showed that NKG2D-CAR T cells were safe, more research is needed to fully understand how safe these cells are and if they could be harmful to older adults.
There is research showing that there are situations in which cells that produce NKG2D are helpful in immune responses. Studies have shown that inflammation as well as certain bacterial and viral infections can trigger cells that are important in the immune response to make NKG2D. Because of this, it could be risky using NKG2D-CAR T cells in older patients or patients with infectious and inflammatory diseases.
Also, because the effects of CAR T cell therapy do not last long, patients may need to get the treatment more than once. Patients who were treated with CAR T cells have had their cancer go away for ten years, according to encouraging data. This finding is a good sign that the therapy might work in the long term.