Key Points:
Complete remission of twelve rectal cancer patients was observed following 6 months of dostarlimab treatment according to visual examination (endoscopy, MRI, and PET scans).
Patients had limited side effects, including nausea, fatigue, and itchy skin.
Ten patients reached zero percent tumor progression after 6 months of treatment based on tissue samples.
The unrestrained cell growth that characterizes cancer is sometimes caused by the immune system failing to detect and remove cancer cells, which would normally enable the body to rid itself of unneeded cells. Sloan Kettering Cancer Center and Yale University School of Medicine scientists sought to change this by allowing immune cells to kill cancer cells with the drug dostarlimab.
In a Phase 2 clinical trial (NCT04165772) published in The New England Journal of Medicine, a small group of patients with advanced stage 2 or stage 3 rectal cancer were treated with dostarlimab, an antibody that inhibits PD-1 (protein that prevents death of cancer cells). Dostarlimab helps the immune system attack cancerous cells, interfering with unrestrained cell growth. Following 6 months of treatment, all twelve patients saw complete remission – temporary recovery. These findings reveal dostarlimab as a potential treatment for cancer caused by a lack of cell death. 
"In our study, single-agent dostarlimab was remarkably effective… providing a clinical complete response in all 12 patients who have completed treatment to date. The study also provides a framework for evaluation of highly active anticancer therapies …before exposure to other agents that might select for cells with a resistant phenotype," the scientists wrote.
Enhancing the Immune System Leads to Cancer Remission
Twelve stage 2 and stage 3 rectal cancer patients were intravenously administered nine doses of dostarlimab every 3 weeks across 6 months. Based on genetic analysis, the patients had confirmed mismatch repair deficiency – where cells are deficient in genes involved in correcting mistakes made when DNA is copied during cell division. Upon treatment, none of the patients showed signs of disease progression or recurrence of cancer. This was based on MRI, PET scans, and endoscopy. In most patients, side effects included rash, fatigue, nausea, and itchy skin.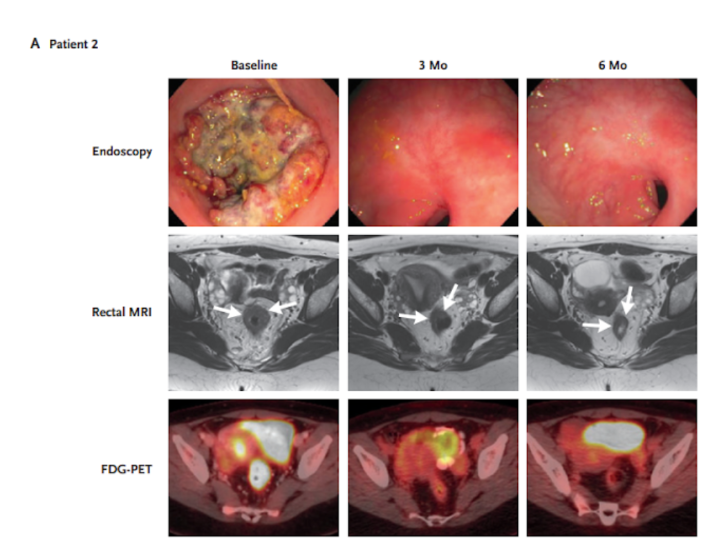 Many of the patients had no evidence of viable tumors as early as 6 weeks after initiation of therapy. By the first follow-up, after 6 months of treatment, all ten patients tested had zero percent tumor progression. PET scans corroborated with this evaluation of tumor response, similarly showing tumor elimination. These results show that the PET scan measurements could reliably assess cancer progression measurements made from actual tissue.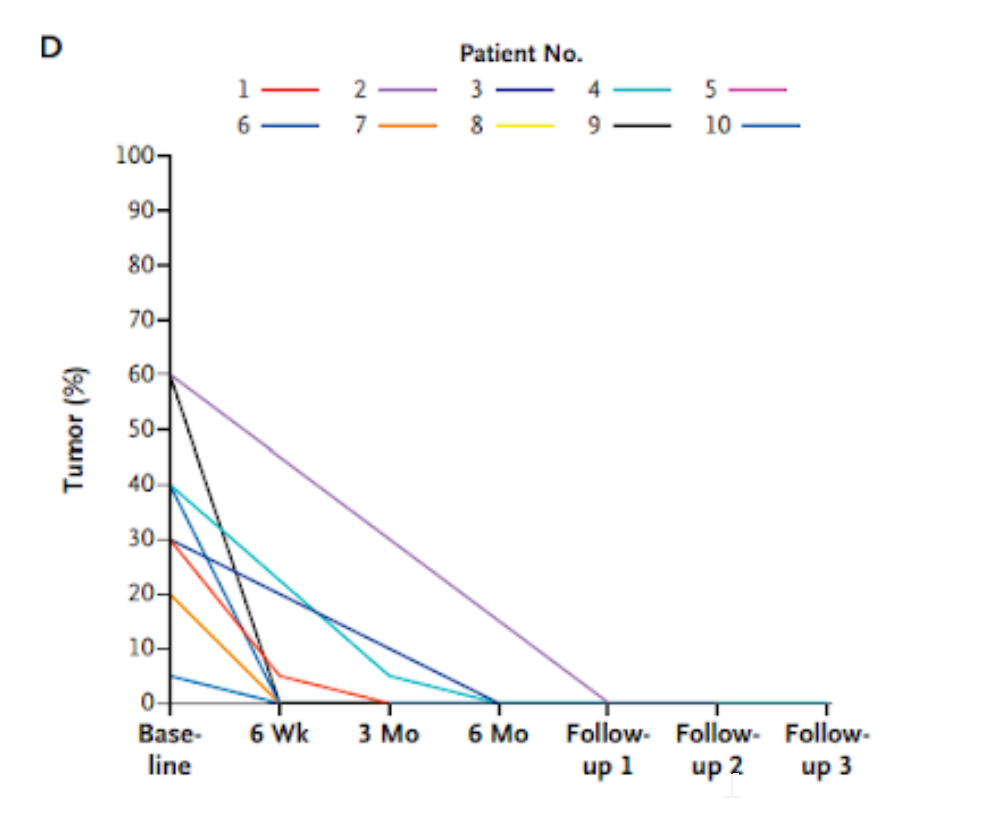 Can Dostarlimab be Used to Treat all Cancer?
Previous studies have shown that PD-1 blockade immunotherapies, such as dostarlimab can be effective in treating other cancers, including lung cancer. The hope for this study is to open the door for evaluating PD-1 blockade in other mismatch repair-deficient tumors, including localized pancreatic, gastric, and prostate cancer, particularly as a first treatment. However, not all cancers are caused by deficiencies in mismatch repair. There are a multitude of genetic mutations that occur in cells that can lead to cancer. Thus, while this study may be the closest we have ever been to curing cancer, we are far from figuring out how to treat all possible cancers.