Key Points:
Oral supplementation of GABA prevents elevations in fat mass and reductions in muscle mass in aged mice fed a high-fat diet.
GABA lowers blood glucose and insulin levels, indicating improved insulin signaling and the potential prevention of type II diabetes.
Treatment with GABA lowers inflammation and increases testosterone levels.
With aging, inactive individuals become highly prone to excess body fat and reduced muscle mass and strength, a state known as sarcopenic obesity. With sarcopenic obesity, too much fat and too little muscle leads to imbalances in energy metabolism that increase the risk of diseases like type 2 diabetes. However, researchers from CHA University in Korea may have found a way to prevent sarcopenic obesity and its disease risks.
As reported in Cells, Jin and colleagues show that GABA supplementation prevents sarcopenic obesity by halting gains in fat and reductions in muscle mass. They also show that GABA improves insulin signaling and lowers blood glucose, which could reduce the risks of type 2 diabetes. Furthermore, GABA is shown to reduce inflammation and raise testosterone levels.
GABA Prevents Sarcopenic Obesity
To induce sarcopenic obesity, Jin and colleagues fed aged (20-month-old) mice a high-fat diet (HFD) for 8 weeks. Compared to aged mice fed a normal diet, HFD-fed aged mice had larger waist circumferences and more fat mass, especially abdominal fat. In addition to this obesity, the aged HFD-fed mice were weaker and had less muscle, indicating sarcopenic obesity.
To test the effect of GABA, the aged HFD-fed mice were treated with 10 or 30 mg/kg/day doses of GABA. The results showed that GABA treatment dose-dependently decreased fat mass and increased muscle mass. Furthermore, GABA treatment improved the grip strength of the aged HFD-fed mice. These findings suggest that GABA supplementation can prevent sarcopenic obesity.

A lack of muscle mass and increased abdominal fat promotes imbalances in energy metabolism that can eventually lead to type II diabetes. Type II diabetes is a reversible disease whereby glucose is unable to enter cells due to dysfunctional insulin signaling.
Usually, cells respond to insulin by absorbing glucose from the bloodstream, which is used to generate energy. However, in the case of type 2 diabetes, cells become less responsive to insulin and unutilized glucose remains in the blood. To compensate, the pancreas releases more insulin, which elevates blood insulin levels.
Indeed, Jin and colleagues showed that both blood glucose and blood insulin levels were high in the aged HFD-fed mice, indicating metabolic dysfunction. However, treatment with GABA prevented these high insulin levels while also reducing blood glucose levels. These findings suggest that GABA can reduce the risks of type II diabetes.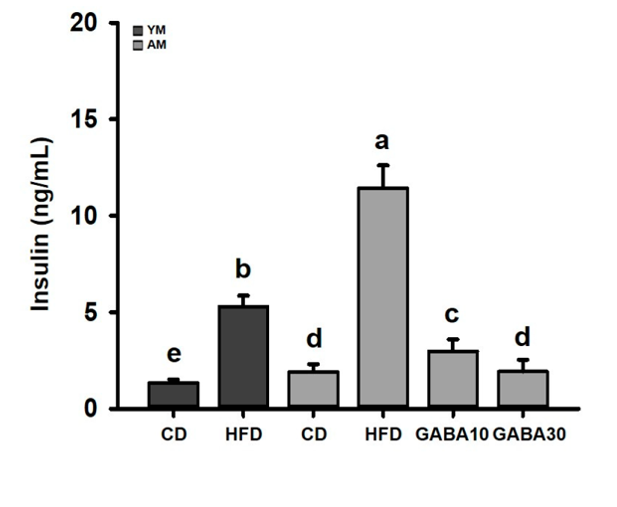 With aging, immune system weakness promotes chronic low-grade inflammation, which in turn can lead to sarcopenic obesity. To assess inflammation, Jin and colleagues measured the pro-inflammatory protein interleukin 6 (IL-6). They found that GABA prevented HFD-induced elevations in IL-6 in aged mice, suggesting that GABA mitigates chronic inflammation.
Since inflammation is linked to the hormone testosterone, the researchers also measured testosterone levels. They found that aged HFD-fed mice had even lower testosterone levels than aged mice on a normal diet, which was lower than young mice. However, aged HFD-fed mice treated with 30 mg/kg of GABA had testosterone levels similar to young mice fed a normal diet.

Overall, the findings of Jin and colleagues suggest that GABA can prevent age-related sarcopenic obesity. Furthermore, GABA appears to mitigate insulin resistance, inflammation, and low testosterone. The authors state:
"We revealed that GABA could potentially be developed as an anti-sarcopenic obesity agent, as GABA suppresses fat accumulation and muscle degradation and increases energy expenditure and muscle protein synthesis. Therefore, it is expected that GABA could be used as an effective therapeutic intervention for sarcopenic obesity and potentially for obesity- and aging-related metabolic syndrome."
GABA as an Anti-Aging Compound
While difficult to measure, estimates show that GABA declines with aging in the human brain. GABA is the primary inhibitory neurotransmitter of the brain, meaning it suppresses neuronal signaling. For this reason, changes in brain GABA levels could contribute to age-related cognitive decline. However, there are not many studies showing that GABA supplements improve cognition in models of aging and there are questions of whether oral GABA can enter the brain.
There is also a lack of studies showing that GABA supplementation can counter sarcopenia or obesity and Jin and colleagues are the first to show that GABA prevents sarcopenic obesity. Therefore, while GABA supplements are available online, more studies are needed to support GABA as an anti-aging compound.