Key Points:
Cardiac NAD+ declines with age in a mouse model for a heart disease called dilated cardiomyopathy that leads to heart failure.
Replenishing NAD+ improves heart function, including the volume of blood pumped from the heart with each beat — ejection fraction.
NAD+ replenishment also prevents heart disease features, including tissue damage.
After the age of 50, the number of individuals affected by heart failure (HF) doubles with each decade. Medications and surgeries help HF patients keep their hearts from working too hard, but there are currently no standard curative interventions for HF. With this in mind, it could be possible to prevent heart failure with various lifestyle interventions, such as diet and exercise. Furthermore, a new study suggests that such lifestyle interventions could be supplemented with anti-aging molecules like NAD+.
In the study, published in Nature Cardiovascular Research, researchers from the Hospital for Sick Children in Canada report that NAD+ prevents features of a heart disease called dilated cardiomyopathy (DCM). They establish their own mouse model for DCM, which die prematurely of HF and exhibit a decline in cardiac NAD+ levels. Injecting the HF model with NAD+ before signs of heart disease is then shown to prevent DCM pathology.
"We were surprised to find that dysregulation of energy production was the earliest sign of heart failure," says Dr. Paul Delgado-Olguín, the senior author of the study. "People associate deficiency in energy production with later stage heart failure, but our findings show this could actually be the cause of heart failure, not a result."

(Ahmed et al., 2023 | Nat. Cardiovasc. Res.) Brief Article Summary Depiction. Left: Healthy mouse heart with normal energy metabolism; producing sufficient levels of NAD+ and cellular energy (ATP). Right: diseased heart associated with heart failure; low NAD+, low cellular energy (ATP), and enlarged chambers.
Replenishing NAD+ Maintains Heart Function in Disease Model
Dilatated cardiomyopathy (DCM) is a heart disease whereby the left ventricle of the heart is enlarged and cannot pump enough blood to the body, ultimately leading to HF if not treated. While the inherited form of DCM accounts for about 30% of affected individuals, the cause of the other 70% of cases is unknown. Thus, Ahmed and colleagues sought to determine if energy metabolism plays a role in this deadly disease.
First, the Canadian researchers generated an animal model for DCM and HF by genetically removing the Kdm8 gene from the heart of mice. The Kdm8 gene is associated with HF in unborn mice and congenital heart defects in humans. The newly generated mouse model (HF mouse) displays features of DCM, including enlarged ventricles, and die prematurely of HF. The HF mouse hearts also display an age-related decline in the energy metabolism mediator NAD+.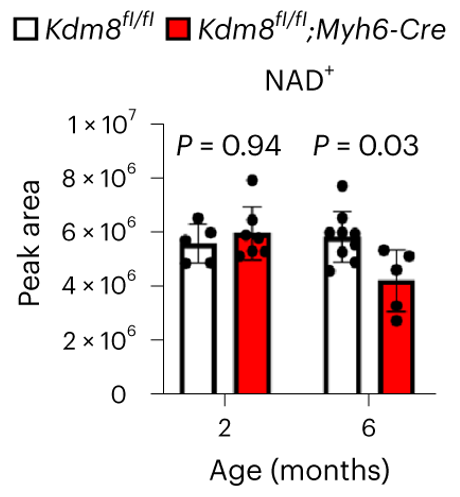 To determine if replenishing NAD+ prevents the onset and progression of DCM, Ahmed and colleagues injected mice with 50 mg/kg/day of NAD+ for two months. NAD+ treatment began before the HF mice exhibited any changes in heart function or structure. It was shown that the NAD+ injections prevented ventricle enlargement and heart dysfunction, as assessed by measures such as ejection fraction, in the HF mice.

When diseased cardiac cells die, they usually are not replaced by living cells but with a structural protein called collagen, manifesting in tissue scarring — fibrosis. Ahmed and colleagues found that HF mice displayed an age-related increase in fibrosis, as measured by increased collagen content. However, injecting HF mice with NAD+ prevented this increase in fibrosis, indicating that NAD+ can prevent cardiac tissue damage, which may contribute to improvements in heart function.

Could Early Intervention with NAD+ Prevent Heart Failure?
In a preliminary study on humans, it was shown that the NAD+ booster nicotinamide riboside reduced inflammation in HF patients. However, this study only had five participants, and a larger study with 40 participants is underway. This larger study should help determine whether boosting NAD+ could treat heart failure patients.
The findings of Ahmed and colleagues show that boosting NAD+ directly, rather than with an NAD+ precursor like nicotinamide riboside, can prevent heart disease if administered before signs of heart failure.
"This research suggests it may be possible to alter certain metabolic pathways to prevent heart failure before damage to the heart begins," says Dr. Delgado-Olguín.
While these results are promising, the model used in this study is biased towards a specific gene (Kdm8), which may not fully recapitulate the cellular pathology of DCM. Therefore, additional mouse models will need to be tested. Still, many features of DCM, such as reduced ejection fraction and fibrosis, are features of the aging heart. Thus, it is possible that NAD+ could mitigate heart aging and other age-related heart diseases.