Key Points:
Features of aging like cardiac hypertrophy, increased blood pressure, and artery plaque buildup are associated with long-term use of anabolic androgenic steroids – synthetic derivatives of the male sex hormone testosterone.
Genetics, steroid type, and dosage heavily influence the consequences of long-term anabolic androgenic steroid use.
In the past decade, deaths in the bodybuilding community have sparked some concern about the reality of taking AAS at extreme doses. With many of these deaths occurring before the age of 50, researchers are questioning whether AAS is the primary culprit. Notably, most bodybuilders and many professional athletes take AAS in combination with other performance-enhancing drugs (PEDs), thus making it difficult to pinpoint AAS as the primary contributor to early death. Nevertheless, the available literature suggests a strong association between long-term AAS use and cardiovascular disease, the current leading cause of death in the US.
The Importance of Testosterone and the Risks of Misusing It
Testosterone is a powerful hormone that is crucial to the survival of both men and women, as it contributes to increased muscle growth, protein synthesis, bone density, and even ovarian function in women. Studies also show that testosterone improves cognitive function and promotes healthy libido and sexual function. Aging is the primary determinant of reduced circulating testosterone. As humans age, the anabolic (growth) hormone gradually declines, increasing susceptibility to erectile dysfunction, weight gain, hair loss, and inflammation – a hallmark of aging. Accordingly, maintaining adequate levels of testosterone is vital to our overall well-being.
Doctors have been able to circumvent this issue with a treatment known as testosterone replacement therapy (TRT). Although TRT is meant for individuals with suboptimal testosterone, some bodybuilders have wittingly piggybacked on this treatment, while others have stacked TRT with other testosterone derivates like trenbolone, oxymetholone, and methandienone. As a result, these athletes are pushing the boundaries of muscle growth and fitness; however, shattering the body's natural limits may come with some dire consequences. 
AAS Linked to Cardiac Abnormalities
Enlarged Hearts
While the utilization of AAS is intended to boost physical performance and stimulate skeletal muscle growth, cardiac muscle also undergoes structural changes, namely, cardiac hypertrophy – heart enlargement. Studies show that cardiac hypertrophy is a detrimental factor that exacerbates cardiac dysfunction and is heavily associated with heart failure, particularly in aged individuals. However, it appears that ASS is potentially triggering cardiac hypertrophy in young and middle-aged users.
Dallas Maccarver, a former professional bodybuilder, suddenly died at the age of 26, and the autopsy report confirmed that he died from an "un-witnessed acute cardiac event." Furthermore, the autopsy noted that his heart was three times the size of a normal healthy heart, although it's not clear whether this was the determining factor of death. Other case reports, along with studies comparing active AAS users to nonusers, have shown that abusing AAS for extended periods of time is associated with a higher incidence of increased left ventricular thickness, a common feature of cardiac hypertrophy.
High Blood Pressure, Systolic Dysfunction, and Atherosclerosis
A secondary consequence of cardiac hypertrophy is increased blood pressure, a parameter measured through systolic and diastolic pressure. While systolic pressure controls the heart's ability to pump blood out into the arteries, diastolic pressure regulates how blood fills the heart. It's crucial that our bodies maintain a harmonious balance between systolic and diastolic pressure, as tipping the scales one way or another severely increases the risk of high blood pressure, cardiac dysfunction, and atherosclerosis – the buildup of plaque in arteries.
One study funded by the National Institute of Drug Abuse examined systolic and diastolic function in 140 experienced male weight lifters aged 34-54. 54 subjects were nonusers, while 86 reported using AAS for two years or more. To measure systolic function, the investigators looked at the ejection fraction percentage, which quantifies the amount of blood pumped from the heart, and found that AAS users exhibited significantly lower ejection fraction percentages than non-users, demonstrating decreased systolic function. However, no significant differences were seen in diastolic function between AAS users and nonusers.
The research team proceeded to measure blood pressure and plaque buildup in the arteries due to their connection with systolic dysfunction and discovered that AAS users displayed  higher blood pressure and higher coronary artery plaque volumes than nonusers. Collectively, the findings highlight the potential connection between AAS abuse, increased blood pressure, and atherosclerosis. Although other researchers have reported similar findings, more controlled studies are needed to confirm these hypotheses.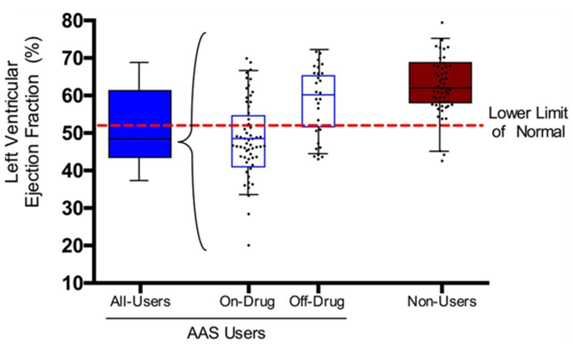 What the Anabolic Doc Has to Say
Looking beyond the scope of available literature regarding AAS use, one person with years of experience monitoring thousands of long-term users of AAS and testosterone is Dr. Thomas O'Connor, also known as the "Anabolic Doc." Dr. O'Connor is famously known for creating Testeronology®, a practice that focuses on optimizing the standard of care for men on AAS so that they "Stay strong and Healthy." Although Dr. O'Conner has taken steps to ensure the safety of AAS users, he stresses the dangers of these compounds and does not promote the illicit use of AAS.
Dr. O'Connor agrees with the literature and suggests that cardiac abnormalities are the primary health issues seen in his AAS patients. Besides cardiac hypertrophy, one of the main things he has found is aberrant changes in cholesterol levels. Specifically, patients tend to exhibit higher LDL cholesterol than healthy individuals. LDL cholesterol gets shuttled through our arteries and can build up over time; thus, increased LDL levels ultimately lead to greater plaque volumes, the main feature of atherosclerosis.
The Anabolic Doc has also pointed out that many of his patients, specifically those utilizing AAS and not testosterone, exhibit signs of kidney damage. In one of his YouTube videos titled "Steroid Induced Kidney Disease – Prevention Toolkit," he highlights a hallmark study that talks about how AAS use is associated with kidney tissue scarring (focal segmental glomerulosclerosis). The study also found that increased lean muscle mass was associated with greater kidney damage, further highlighting that superhero physiques come with a heavy price.
Notably, Dr. O'Connor heavily emphasizes the role that genetics play in triggering these health abnormalities. For example, individuals with hypertension or diabetes are significantly more likely to experience cardiac and kidney problems. He also states that dosages and the types of steroids used greatly impact the outcome, which is why we need more studies looking at the effects of specific AAS to solidify connections between AAS use and health defects. However, institutional review boards are widely apprehensive about approving such studies, so it may be a while before scientists formulate any concrete evidence concerning long-term AAS use.
Be Cautious of AAS
Although proper diet and exercise heavily influence longevity and contribute to enhanced muscle fitness, achieving a superhero physique beyond the body's natural limits requires AAS. Professional athletes have been using AAS since the 1954 Olympics, but the literature surrounding the effects of the long-term use of AAS at extreme doses is extremely limited.
That being said, the available research suggests a strong connection between long-term AAS use and accelerated heart aging. Humans succumb to cardiovascular disease more than any other age-related disease in the world. And since AAS can potentially accelerate heart decline and aging, people may want to think twice before embarking on the AAS train.